China's factories return to growth as Covid-19 restrictions ease – business live
The jump in China's PMI survey is an encouraging sign, say economists and analysts – but it certainly doesn't mean the crisis is over.
Here's some early reaction:
China's PMI figures look like a classic V-shaped recovery: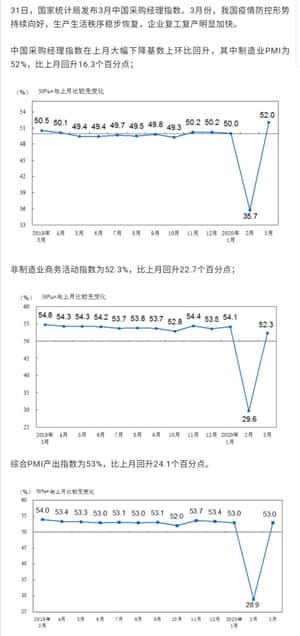 But be cautious. It's telling us that factories and services firms strengthened in March compared to February.
China's statistics body also warns that the global coronavirus pandemic is hurting the world economy.
Zhao Qinghe, the NBS's senior statistician, says:
The epidemic is accelerating and spreading around the world, severely impacting global economic growth and trade.

"There is also pressure on China's epidemic control from incoming cases, so the recovery of economic growth and supply chains face new challenges."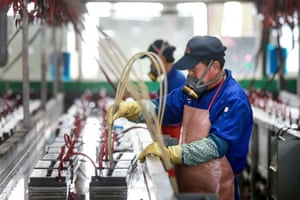 Good morning, and welcome to our rolling coverage of the world economy, the financial markets, the eurozone and business.
For the first time in ages, we have some encouraging economic news to report. Chinese companies have reported a pick-up in economic activity this month, as they start to recover from the Covid-19 shutdown.
The latest survey of China's purchasing managers suggests that some green shoots are peaking out, as companies return to work.
The Chinese composite PMI, which tracks activity across service sector firms and factories, surged back to 53 from a record low of 28.9 in February. That's stronger than economists expected.
Crucially, that lifts the PMI above the 50-point mark that separates monthly growth from contraction.
Both key sectors of the economy reported a pickup:
Manufacturing PMI: Up to 52 in March, from 35.7 in February.
Services PMI: Up to 52.3, from 29.6 in February
It's early days, of course. The rebound may be partly due to the shocking slump in February. And the PMIs are 'soft data', relying on managers reporting on their own conditions.
China's National Bureau of Statistics was somewhat cautious about the PMIs, saying the figures:
….reflects that more than half of the surveyed enterprises have resumed work and resumed production, better than last month, but it does not mean that China's economic operation has returned to normal".
But the survey does suggest China's economy is recovering as it starts to relax some of its coronavirus restrictions — just as many other economies, large and small, head into a deep slump.
As Reuters points out:
The survey's sub-index of [China's] manufacturing production picked up to 54.1 in March from February's 27.8, while a reading of new orders rose to 52 from 29.3 a month earlier.

New export orders received by Chinese manufacturers ticked up to 46.4 from 28.7 in February, but were still mired in contraction.
This could reassure markets, and perhaps calm some of the recent volatility that has sent asset prices swinging. But, with infections still rising sharply in Europe and America, the pandemic is still threatening to cause a very steep downturn.
I'll pull together some reaction now….
Economic data due later today is likely to show that Germany's unemployment total has risen this month, while US consumer confidence has probably taken a big hit too.
The agenda
8.55am BST: German unemployment figures for March: Jobless total expected to rise by 25,000
10am BST: Eurozone inflation figures for March: CPI expected to fall to 0.8% from 1.2%
3pm BST: US consumer confidence index for March: expected to slump to 112.0 from 130.7