Coronavirus live news: US deaths could reach 200,000 as UK warned of six-month lockdown
The coronavirus pandemic could cause UK economic output to plunge by an unprecedented 15% in the second quarter of the year and unemploymentto more than double, according to dire forecasts.
The deepest recession since the financial crisis is now all but unavoidable, according to analysts at the Centre for Economics and Business Research (CEBR), after businesses shut up shop and consumer spending fell dramatically as a result of lockdown restrictions.
The centre said it expected the economy to have shrunk marginally in the first three months of the year by 0.5%, followed by the steepest economic contraction since comparable records began more than 20 years ago.
The predicted slump would dwarf the 2.2% contraction in the fourth quarter of 2008 as the banking crash took hold, marking by far the worst three-month period since at least 1997.
The number of people with flu-like-symptoms on a Covid-19 stricken cruise ship off the coast of Panama has risen by almost a third in two days, from 138 to 179.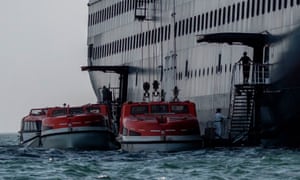 Holland America Line, who runs the Zaandam cruise liner, confirmed that nobody else had died on board after four elderly passengers passed away earlier this week. The cause of death has so far not been stated.
On the Zaandam 69 guests and 110 crew are ill with flu like symptoms. On Friday, 53 guests and 85 crew were sick on the cruise liner, where two people have so far tested positive for covid-19.
The Zaandam and its sister ship the Rotterdam are preparing to pass through the Panama canal after the Central American country reversed a decision to stop the vessels from crossing. Hundreds of asymptomatic passengers were moved to the Rotterdam over the weekend. None have presented with flu-like symptoms so far.
On Sunday evening, it was still unclear whether the two boats would be allowed to dock in Fort Lauderdale after local authorities raised concerns about the health risks the crew and passengers pose to the local population.
Fort Lauderdale Mayor Dean Trantalis has called for President Trump to intervene in the situation and has suggested the vessels should be redirected to nearby Navy bases.