Pence in charge of coronavirus response as Democrats continue primary campaigns – live updates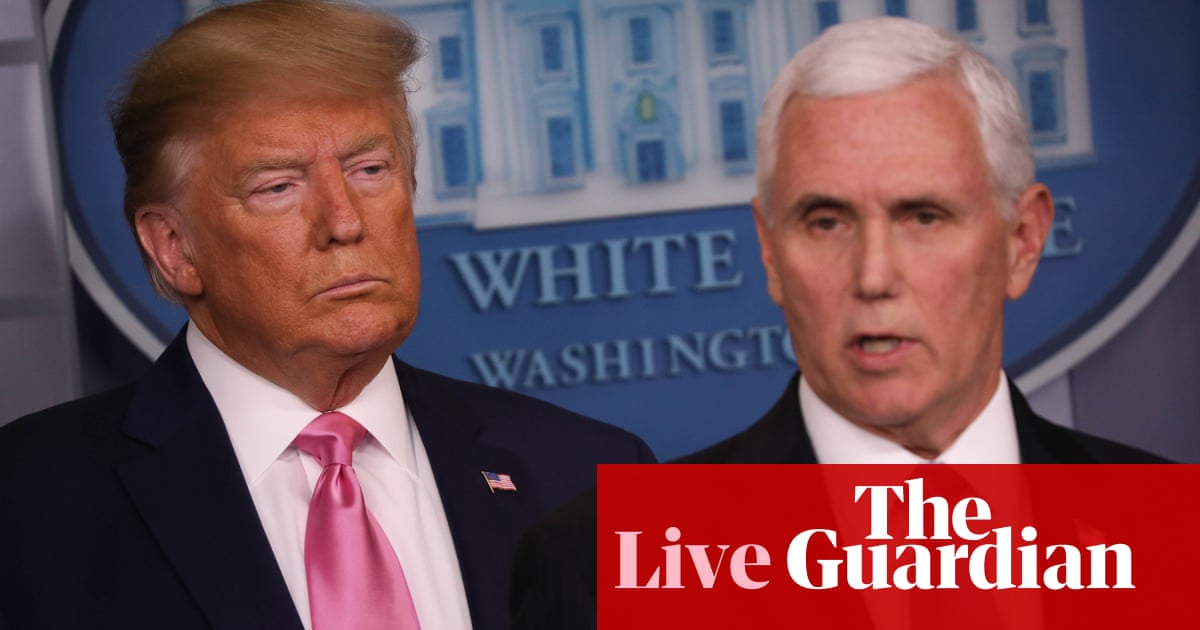 AP are reporting that one of the nation's largest labor unions is unveiling plans to invest $150 million in a nationwide campaign to help defeat president Donald Trump. The campaign will be aimed at eight key states: Colorado, Florida, Michigan, Minnesota, Nevada, Pennsylvania, Virginia and Wisconsin.
The union and its local members will pay particular attention to two key urban battlegrounds: Detroit and Milwaukee. They believe will play a defining role in the 2020 general election, and the investment will focus primarily on direct contact and online advertising targeting minority men and women who typically don't vote.
It is the largest voter engagement and turnout operation in the history of the Service Employees International Union, which claims nearly 2 million members.
Union president Mary Kay Henry has called it "a make-or-break" moment for working people in America under Trump's leadership.
"He's systematically unwinding and attacking unions. Federal workers rights have been totally eviscerated under his watch," Henry said in an interview. "We are on fire about the rules being rigged against us and needing to elect people that are going to stand with workers."
The SEIU has yet to endorse a specific challenger for the Democrat nomination. It is one the most diverse unions in the US. Membership features those who work in health care, food service, janitorial services and state and local government workers, among others. Half its members are people of color, and more than half make less than $15 an hour.
Good morning. It's a busier in-tray than usual for Vice-President Mike Pence after president Donald Trump put him in charge of the US response to coronavirus.
The administration has been giving mixed signals on the crisis. Officials at the Centers for Disease Control and Prevention have described the further community spread of Covid-19 as inevitable, even while Trump downplays the significance of the spread of the virus.
There's evidence that for the first time there is a case in the US that involves someone with no known link to foreign travel.
Pence is also due to be speaking at the 2020 Conservative Political Action Conference (CPAC) in Maryland this morning. Ted Cruz, Kellyanne Conway and Betsy DeVos are also on the bill.
Meanwhile Trump's lawyers are going to be busy after an escalation of the Republican president's long-running battle with the news media. His team say they are filing a lawsuit against the New York Times. The campaign said the aim of the litigation was to "hold the news organization accountable for intentionally publishing false statements against President Trump's campaign".
For the Democrats we'll find out on Saturday whether Joe Biden can get over the line in first place in South Carolina. Frequently described as one of 'firewall' states, its a test of his appeal to minority voters. There are fifty-four delegates up for grabs.
But the campaign already seems to have moved on to looking at the states that will vote on Super Tuesday – and in particular Texas. Mike Bloomberg has spent more than $13.5 million on television ads around Houston alone. Elizabeth Warren will be in San Antonio today with its former mayor and her former rival for the nomination, Julian Castro. She visits Houston on Saturday. Pete Buttigieg will be in Dallas on Sunday. Texas will award 228 delegates on Super Tuesday, second only to California.
And if you fancy something a little leftfield and you live in New York, you can sign up for a "Mindfulness for Mike" yoga session with the Bloomberg campaign before volunteering. It starts at 9:15.