Australia set Bangladesh 190 to win: Women's Twenty20 World Cup – live!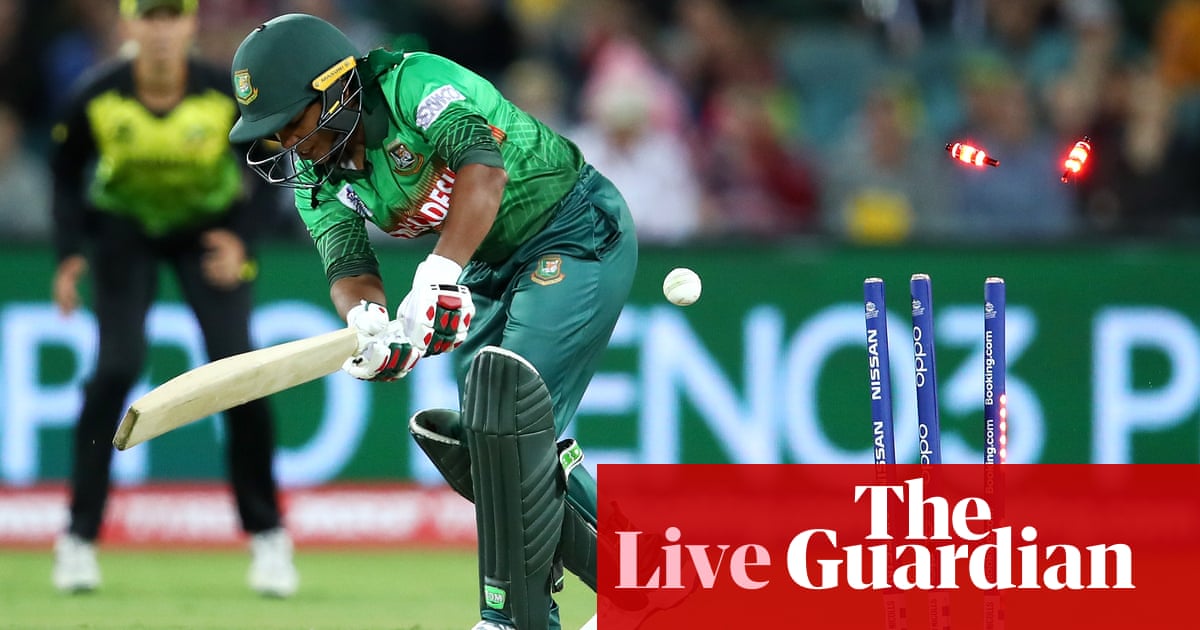 18th over: Bangladesh 97-5 (Fargana 35, Fahima 1) Jonassen, the ever reliable. How will Australia set up for the elimination stage of this tournament – which begins with their group game against New Zealand – I wonder? 13 players have turned out across the three group games. I reckon they will want the wrist-spin of Wareham ahead of Strano. What about Kimmince? Is she back for Sutherland or Carey or left out altogether? They're all good problems to have, of course.
Straight down her throat. Rumana sweeps and sweeps hard but it was never in doubt with Wareham, taking the relatively simple chance at deep square leg.
17th over: Bangladesh 94-4 (Fargana 33, Rumana 13) Wareham's chance once again now and Rumana doesn't mind that, crunching over over mid-off for four! The wagon wheel for tonight, from both teams, will show how effective it has been for batters going down the ground – I'm sure that will be looked at by the teams yet to play at Manuka over the next few days. That's the direction Fargana goes again to finish, with power after dancing to the pitch, albeit straight to long-off this time.
16th over: Bangladesh 86-4 (Fargana 30, Rumana 8) Schutt picked up two wickets in three balls to finish her previous spell at the top of the innings. She's back now for the death. As Nasser Hussain pointed out on commentary during an earlier match in this tournament, it might not be competitive right now but this is perfect practice for her in terms of nailing her death yorkers for later in the comp. She's a touch legside for the liking of her captain here but Bangladesh don't capitalise.
15th over: Bangladesh 81-4 (Fargana 29, Rumana 3) Jonassen is back for just her second over, one of the most experienced spinners in the world. So she knows the drill here, around the wicket angled in with a bit of flight, making it as challenging as possible to free the arms without taking a substantial risk in doing so. For what little it is worth, the required rate is up to 22 runs an over – 109 needed in 30 balls.
After a nice little run for Bangladesh – this pair bringing up their 50 partnership – Joty fails to time her stroke over cover, the ball landing with Lanning on the circle at point. Earlier in the over, Fargana had a pop at Carey, slapping her over mid-off for another emphatic boundary. The partnership is over but she's still swinging.
14th over: Bangladesh 76-4 (Fargana 28)
13th over: Bangladesh 68-3 (Joty 16, Fargana 23) Lanning throws the ball back to Sutherland, keen to get the full allotment of overs into her all-rounder in this low-intensity setting, I am sure. But she is too full to Fargana, who nails her down the ground with a picture-perfect off-drive for four. That's a super shot. Sutherland overcompensates with her response, this time too short outside the off-stump, and is cut hard behind point. Mooney saves the boundary with a fantastic dive but she is reaching for her right shoulder. We'll be keeping an eye on that. Fargana goes again to finish, slapping a full ball from her back knee through midwicket for another boundary. The Bangladesh fans love it! 13 from the set; their best so far.
12th over: Bangladesh 55-3 (Joty 15, Fargana 11) This is morphing into glorified centre-wicket practice for Australia's bowlers with a win well beyond Bangladesh's wildest dreams from here. That's a better over from Wareham for the most part, generating plenty of overspin. They will need her against New Zealand. Oooh, dropped catch? I think so, Healy not quite able to glove Joty's underedge.
11th over: Bangladesh 51-3 (Joty 13, Fargana 10) Shot, Joty. The right-hander brings up Bangladesh's 50 with a compact pull, timed well enough to beat Perry's dive. I'm not sure her skipper would have enjoyed seeing her superstar going full stretch towards her problematic shoulder but she was straight back on her feet. Of course, as Lottie Edwards points out, that was exactly how she hurt her shoulder so badly during the WBBL season, but you can't ask a competitor like Perry to hold back.
10th over: Bangladesh 45-3 (Joty 8, Fargana 9) Georgia Wareham, one of the stars of the future – and already a World Cup winner – into the attack for the first time in this competition. She's a fraction short to begin here with her leggies, getting her length right by the end of the over. Just three singles. A familiar end is nigh.
9th over: Bangladesh 42-3 (Joty 7, Fargana 7) Two boundaries in a row for Bangladesh, Joty starting Carey's over with a lovely looking drive for cover for four. The seamer pulls her length back a fraction in response, getting through the rest of the set giving up just a couple of additional singles. 14 an over now needed.
8th over: Bangladesh 36-3 (Joty 6, Fargana 2) A second front-foot no-ball of the innings so far, this time Sutherland the culprit. It might not appear like a big problem but it isn't a habit you want to get into as it can really throw rhythm – especially when playing so often. With the technology in place, should't the simple (perhaps simplistic) answer should be to move your marker back? Fargana finishes the over with a tidy little pull, fine of the fielder on the circle for four.
7th over: Bangladesh 29-3 (Joty 1, Fargana 2) In case you were wondering, the old WinViz machine has Australia at 99% to win this game from here. Considering Bangladesh need 13 an over from here, that feels right. Of course, it was at a World T20 where it read 100% only for the 0% shot to win. A caveat on that: it is a backward-looking measure. Anyway, my point is made. Two off the Carey over.
6th over: Bangladesh 27-3 (Joty 0, Fargana 1) That's a very nice start from Sutherland. She wasn't given a chance to bowl against India in the tournament opener, left out against Sri Lanka, but back with a wicket in her first over here.
Annabel Sutherland, back into the team tonight, picks up a wicket with a tickle down the legside. She set Sanjida up well with a couple of well-directed inswingers, the No3 having a pop at the shorter ball when it came. But she failed to get on top of the stroke, the ball clipping her glove en route to Healy's.

5th over: Bangladesh 26-2 (Sanjida 3, Joty 0) Dropped catch! Gardner puts down a sitter. Sanjida top-edged high into the night sky and the Australian No3 made a meal of it at deep backward square. Perry is the unlucky bowler but is straight back on the job, completing another frutal set. With her sore shoulder, I wouldn't be surprised if the superstar bowls her four overs straight out off the top here.
Straight through her! The classic Megan Schutt inswinger does the trick, through the gate and into the middle stump. After a slow start to this tournament, the South Australian is back in town in a hurry with two wickets in three balls.
4th over: Bangladesh 23-2 (Sanjida 0)
The punchy opener tried to take Schutt downtown but didn't get enough of it, safely taken by the experienced Jess Jonassen on the long-on rope.
3rd over: Bangladesh 15-0 (Sultana 9, Murshida 4) Perry oversteps! So assessed by the third umpire. This wouldn't normally be noteworthy but this is the first ICC tournament where the TV official has had control over the front line rather than the umpires in the middle. It means a free hit, which Murshida doesn't take advantage of – indeed, it is caught by Haynes at backward point, but she can't be out on a free hit. Sultana finishes the over in style, cobbering the quick straight back over her head for four! We saw Healy and Mooney do that time and again – a relatively safe strategy on such a true wicket, especially with the field up.
2nd over: Bangladesh 7-0 (Sultana 4, Murshida 2) Schutt is the top-billed T20 bowler in the world but hasn't had the best start to the tournament, notwithstanding an early wicket against Sri Lanka. She's able to keep both players quiet through the first five deliveries of this set but gives Sultana something to hit to finish, put away through midwicket for Bangladesh's first boundary. They're going to need a lot more of that though: the required run rate is already over 10.
1st over: Bangladesh 2-0 (Sultana 0, Murshida 1) Perry jags an off-cutter at Sultana to begin, ever so close to crashing into her leg stump via the edge. She's off strike next up via the pad. Murshida is then happy to play the superstar respectfully before clipping a single to midwicket to keep the strike and get off the mark.
The players are back on the field. Perry is taking the first over, running in at Sultana to begin; Murshida Khatun with her at the other end. PLAY!
Just what Australia needed. After getting bowled out against India and finding themselves in strife against Sri Lanka, it was time for the top order to fire and fire they did. Healy raceed to 50 in 26 balls, eventually getting to 83 in 53 balls before holing up, putting on 151 for the first wicket – a record for Australia in this format. Both she and Beth Mooney (81 not out in 58 balls) were superb down the ground. Ash Gardner's 22 in nine balls at the end was the cream on the cake. Bangladesh's bowling was too defensive early and their fielding too sloppy when chances did come later on. They now have a near-imposssible task ahead of them.
20th over: Australia 189-1 (Mooney 81, Gardner 22) Jahanara has the daunting task of bowling over number 20 at this pair and she doesn't start well, giving Mooney enough room to throw her hands at a ball well outside the off-stump, clearing the circle and running away for four. Gardner miscues a couple of times when trying to launch the seamer to Parliament House but doesn't miss when going along the carpet, slapping a low full toss past the bowlers' boots for another straight boundary. She misses a crossbat slap to finish the innings, struck on the pad. Jahanara sends it upstairs – nothing lost in that – but DRS shows it to be missing leg stump. 14 off the final over, leaving Bangladesh a huge target of 190.
19th over: Australia 175-1 (Mooney 74, Gardner 16) Shot, Ash. Gardner leans back and hammers the captain Salma through midwicket for four. Stand and deliver. She goes through the posh side next up, the result the same, beating the sweeper to the cover rope! The player of the World T20 Final in 2018, she can be so difficult to bowl at when she has the scoreboard on her side. BIGGER AGAIN to finish, parried over the boundary rope for SIX! It should have been out but nothing is going right for Bangladesh in the field. Akter is the culprit this time at long on.
18th over: Australia 159-1 (Mooney 73, Gardner 1) Jahanara is back with her Merv Hughes (to pick but one) angled run-up. Russell Jackson, formerly of this parish (and recently again during the Australian Open) wrote a detailed ode to this approach in 2015. It's an effective over too, until Mooney gets resourceful, picking the length early to lift cleverly over short fine leg for an eighth boundary, moving into the 70s. There's still just enoughtime for her to reach three figures here.
At last Bangladesh take a catch! After dropping Healy then Mooney earlier in the over, the right-hander is finally taken at backward point. Earlier in the over the wheels looked to be falling off, the 150 partnership raised after the two fluffed chances. But the sliced cut from Healy was safely pouched by Sanjida.
17th over: Australia 151-1 (Mooney 66)
16th over: Australia 142-0 (Healy 82, Mooney 59) DROPPED! Nahida wins an error from Mooney, who miscues high in the air after not quite getting to the pitch on the advance, but it is put down in the deep. Back to Healy, who once again uses her feet, hammering the left-arm tweaker over her head. Oooh, back to back boundaries when an inside edge spits away fine. Nothing wrong with the ball – a very nice comeback delivery – but the outfield is so quick. Into the 80s she goes.
As always, Causters is spot on. The treatment of Bangladesh by Australian administrators over the last 20 years has been nothing short of disgraceful.

15th over: Australia 129-0 (Healy 72, Mooney 56) This is now the highest opening partnership for Australia in T20Is and they are not done yet, Mooney busting out a reverse sweep to raise her half-century! It's her sixth boundary, reaching the milestone in 41 deliveries. Rumana finishes her four, taking 0/30. Bowled nicely.

14th over: Australia 119-0 (Healy 70, Mooney 49) Two accurate and effective overs in a row from Bangladesh, Fahima's legspinners taken for four singles only. With six to go, Australia should still be hunting 200. It is possible (albeit not probable) that Net Run Rate could dictate who goes through with India from this group.
13th over: Australia 115-0 (Healy 68, Mooney 47) A big let off there for Beth Mooney! The opener danced for the umpteenth time tonight but, for once, missed the well-flighted delivery. Sultana, behind the stumps, wasn't able to get the bails off in time. It looked like she was well short of her ground but managed to use the momentum of her fall to slide the bat back just in time. Terribly disappointing for Rumana who earned that – an excellent over in very challenging circumstances.
Earlier, I was pleased to hear Isa Guha pull Michael Clarke up for a wee overreach on telly. The former Australian captain stated that people were calling for Alyssa Healy's head when she struggled in the triseries. Not that I'm inclined to (mis)quote Thatcher but I will here: who are these people? What are their names?

12th over: Australia 111-0 (Healy 66, Mooney 45) Fahima gives Healy a full toss to start her second over and it is only going to one place: the boundary. She elects to pop it to square leg, where there is a gap. She spinner recovers well – this is a better over – but the singles continue to come at will with eight coming from it.
My man Scott Bailey makes a good point here. From memory, this is what they did in 2018 when Perry – listed at seven in that competition – was elevated against Pakistan to get a proper hit before the semi-final stage. They're spoilt for choice.

11th over: Australia 103-0 (Healy 60, Mooney 43) Shot. Mooney brings up the Australian 100 with a crisp tuck, just square of fine leg, running into the boundary rope. Perfect placement off the seam pace of Jahanara across the lightning fast outfield. The milestone is reached between the pair in just 64 deliveries.
10th over: Australia 96-0 (Healy 58, Mooney 38) Fahima Khatun is the second leggie used, bowling in her cap. I mentioned it in the previous over but the running is so good. "It's what makes these two so hard to bowl to," notes Lottie Edwards on commentary. "They turn ones into twos." And Mooney turns a good delivery into a boundary later in the over, jumping down the track once again before stroking through the line, crashing a lofted drive the sightscreen. Class.
9th over: Australia 85-0 (Healy 57, Mooney 28) Another big over, Mooney flaying Rumana from the crease through cover, another powerful boundary. She's playing second fiddle to Healy on the scorecard but doing everything right – especially between the wickets, they're routinely turning ones into twos now the field is out.
"Hello, Mr Collins." And to you, Abhijato Sensarma. "I watched the previous match between New Zealand and India. The fact that a 16-year old (Shafali Verma) and a 17-year old (Amelia Kerr) bossed the game boggles the mind, especially mine – I am as old/young as the latter myself. Women's cricket is in safe hands."
I'm really happy that Kerr made it work with the bat on this stage. She's been sketchy at best in big series and tournaments. What a talent. Had she pulled that off, it would have gone down as one of the great World Cup escapes. With their matchwinners (Devine and Bates) both failing and still nearly getting there, I reckon they're in a pretty good spot for their huge game against Australia. Much better than last time around in 2018 when India smashed them up before copping Meg Lanning's side – they were broken. I don't see it that way here. Should be fun.
8th over: Australia 74-0 (Healy 53, Mooney 21) BOOM! Healy smashes Khadija over head for SIX! BOOM! She does it again: two in a row, this time over deep midwicket with a slog sweep over the rope! That takes her to a half-century, in just 26 balls, with seven fours and three sixes. Faultless T20 batting from the Aussie opener.
7th over: Australia 58-0 (Healy 39, Mooney 19) The leggie Rumana is into the attack with the field back and she's sent down an accurate over, giving the Australian pair nothing. But how well the bowler is going doesn't matter an awful lot to Healy in this mood, dancing down the track again before slapping the final ball of the set over the bowlers' head for yet another boundary. By my quick count 42 of Australia's 58 runs so far have been added via fours and sixes.
6th over: Australia 53-0 (Healy 35, Mooney 18) Mooney's turn to go over the bowlers' head, taking on the offspinner Khadiza's second delivery after charging to the pitch of the ball. That's the way to do it with the field up. She follows it with a quick single, dabbed into the offside. Superb strike rotation. Full disclosure: I've been the joint-No1 member of the Beth Mooney Fan Club (with Geoff) since the first WBBL season- thrilled to see her playing so well on this stage. Oh, Healy goes bigger when she dances later in the set, lofting the off-break long and high and over the midwicket rope. She's going big tonight. 13 off the final power play over.
5th over: Australia 40-0 (Healy 28, Mooney 12) Healy goes again, this time to Nahida, down the track and over cover. That's a much harder shot than it looks with the ball angling in and turning away. They're already milking the singles off the spinners to build this base. They could easily be on for 200-odd here.
4th over: Australia 33-0 (Healy 23, Mooney 10) Khatun continues and that's fine with Healy, depositing the spinner back over her head for a fifth boundary. That's the shot she played so well and so often on her way to player of the tournament honours during the 2018 World T20 in the Caribbean. She's already 23 from 15.
3rd over: Australia 26-0 (Healy 18, Mooney 8) Nahida is on with her left-arm orthodox, around the wicket and though the umpire in at Healy – an old school approach and I love it. It's a much straighter over too, angling in at the stumps. West Indies showed the folly of tossing it up wide last night against Pakistan, this batting track is too good for that. It prompts Mooney to use her feet for the first time to take a risk but she nails the execution, up over the circle at cover for four. Of course, the left-hander has an international century to her name at this venue from the Ashes in 2017, one of the best hands I've witnessed in women's cricket.
2nd over: Australia 20-0 (Healy 17, Mooney 3) The Bangladesh captain Salma Khatun begins from the Cathedral End with her off-spin and Mooney makes contact through point with an assured cut shot, getting two out to deep point from her first offering before milking another single in that direction. Bangladesh have been too wide of the woodwork so far; way too defensive. Healy's turn and she makes the most of it with a fourth boundary in a hurry, timing the off-spin beautifully through cover. That's her best shot so far. Australia are off to a flyer. It looks a lovely night in Canberra, the shadows just reaching over the pitch as the sun sets. Expect some gorgrous, colourful shots of the sky during the second innings. By contrast, it has just started snowing at my house in North London.

1st over: Australia 12-0 (Healy 12, Mooney 0) Healy leaps onto a wide delivery first up, smashing Jahanara with authority through cover for four. She repeats the dose two balls later – this time a fraction squarer through point – for four more. It was lost a bit in the post-loss commentary against India that Healy got herself back into form with a brisk half-century after a horror run in the pre-competition series against England and India where she made just 25 runs in five innings. Meanwhile, Healy goes again through the off-side, now carving a boundary behind point. Much as it was with the second shot, this was through the air and not too far from the catcher. It prompts another field change: Bangladesh have three fielders on the circle at point to finish. The end of an eventful first over: 4-0-4-0-4-0. Tidy.
The players are on the field. Healy and Mooney are walking to the middle, both out early against Sri Lanka. The speedster Jahanara Alam has the ball in her hand, running in from the Manuka Pool end, her trademark headband in position. PLAY!
Anthems out in the middle. I didn't reflect on Australia batting first. That's an interesting call given their Plan A in this tournament was to chase with their deep batting reserves. A chance here, on a fresh pitch, to get a few players in form before a quasi-quarter final against New Zealand – provided they win tonight.
The view from the magnificent Manuka press box. If you are tuning in from outside of Australia and are interested in learning a bit about the nation's capital, I can strongly recommend Paul Daley's farewell on his final night as a resident. I lived there for six years and adore the place, not least the cricket ground.
Kimmince and Strano are out for Australia; Sutherland and Wareham in. I'm surprised the leggie hasn't played until now – she was outstanding in the T20s against England last year and in the World T20 Final two years ago. As for Kimmince, I didn't expect her omission – she was their best bowler against India.
Perry is fit to play despite carrying a shoulder niggle. There was some talk she might be rested for tonight but Lanning was pretty clear: her superstar is fine.

Australia: Alyssa Healy (wk), Beth Mooney, Ashleigh Gardner, Meg Lanning (c), Rachael Haynes, Ellyse Perry, Annabel Sutherland, Jess Jonassen, Nicola Carey, Georgia Wareham, Megan Schutt.
Bangladesh: Shamima Sultana, Murshida Khatun, Sanjida Islam, Nigar Sultana (wk), Fargana Hoque, Rumana Ahmed, Fahima Khatun, Jahanara Alam, Salma Khatun (c), Nahida Akter, Khadija Tul Kubra
"It is a new wicket and we feel it is a good batting deck so that gives us a chance to get off to a good start." Annabel Sutherland and Georgia Wareham are into the Australian XI. Lanning says that she can't remember who is missing out. Love it.
Some pre-game commentary from the camps. Meg Lanning is clear that they aren't underrating Bangladesh, and that's the right attitude given their opposition have caused big upsets at World T20s before – notably against India. As for the visitors, they take a fair bit of confidence into this after a solid showing with the ball against India and a halfway decent chase. Now to lift their fielding. At the 2018 competition that was what they did best but it wasn't the case on Monday.
Welcome to the second fixture in this Group A double header, with Australia taking on Bangladesh, the lowest seed in this group. The situaton for the host nation remains just as it did when they turned out to play Sri Lanka on Monday: they have to win every game from here to clear this stage, reach the finals and defend the trophy. That's the penalty they carry for losing to India on Friday. With India just now getting over the line against the Black Caps, this equation remains.
It was far from the most convincing display when they did get off the mark at the Waca, reduced to 10/3 in pursuit of 123. Enter Rachael Haynes and Meg Lanning, who systematically went about finishing the job after the worrying wobble. There's no need to panic though: they are the best team in the world for a reason.
As for Bangladesh, in their one an only outing so far they gave India a decent shove before falling 18 runs short in their chase of 142. Their plan of attack will be simple: to turn the game, somehow, into a low-scoring scrap. The main issue with that approach is that is rarely the experience at Manuka Oval's batting paradise.