the codecasa superyacht stretches 230-feet and looks like a jumbo jet
merging the nautical with the aeronautical, italian shipyard codecasa has designed a new 230-foot (70-m) superyacht that looks like a jumbo jet. the codecasa jet 2020 marries marine and aircraft-grade design for a concept that focuses on minimal, clean lines and expansive interiors.
designed by owner fulvio codecasa, the upcoming codecasa jet 2020 features three decks in total that culminate in a bow that looks directly lifted from an aircraft. the centerpiece is a 66-foot 'sundeck' where guests can enjoy an expansive recessed swimming pool (20 foot), a sunbathing area and a covered gym.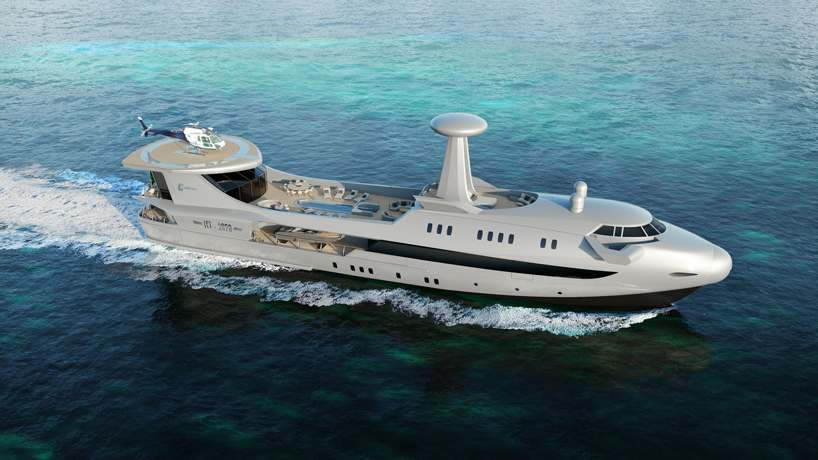 images courtesy of codecasa
the main deck area is devoted to the owner's suite, while the guests are accommodated in the four cabins in the lower deck, the forward area of which is taken by the crew quarters. the pilothouse, then, located on the bridge deck is comfortably served by another lift connecting the three decks and is directly adjoined, through a corridor, to the captain's cabin.
the deck area extends until the aft section of the yacht, which develops vertically in a solid shape, creating an aircraft-like tail that supports a helipad for medium/large choppers. windows are dotted in a configuration similar to that of airliner and side compartments cut into the belly of the beast to resemble jet engines carry two tenders.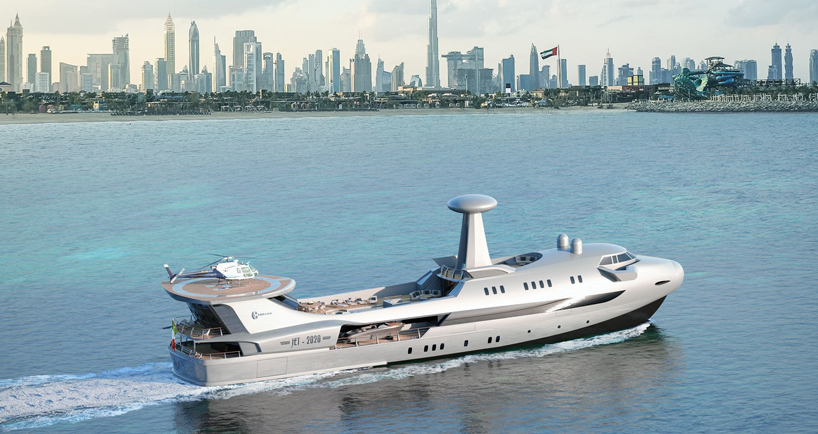 'same as the other yachts belonging to the codecasa shipyards production, this yacht features the renowned and high quality standards, which made the yard famous all over the world,' codecasa yachts expains.
'additionally, she is provided with the newest technical equipment available on the market, such as the radar antennas, which will be installed inside carbon fiber domes, in the typical style of the awacs airplanes.'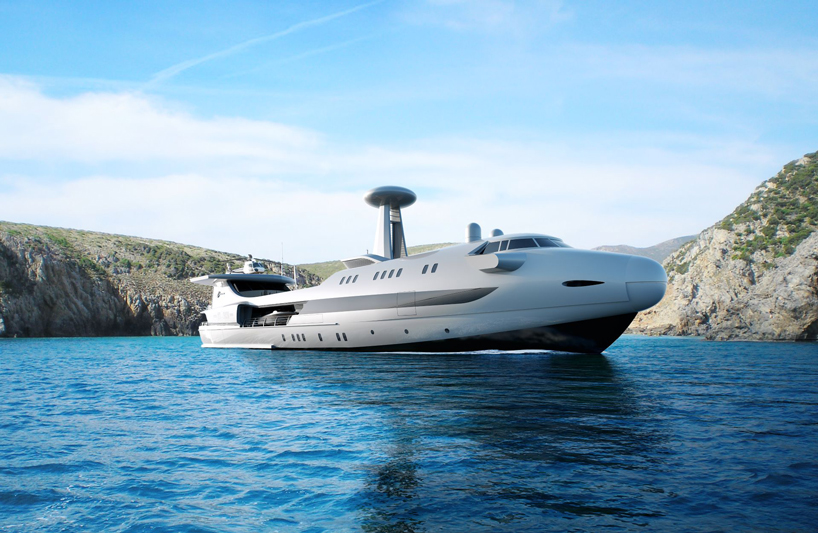 'from the technical equipment point of view, the new codecasa jet 2020, which is meant to become the flagship of codecasa shipyards, is still being finalized,' codecasa yachts adds. 'the building most probably will begin in the first half of the year 2020.'
project info
company: codecasa
model: codecasa jet 2020
status: concept
kieron marchese I designboom
jan 31, 2020