From Malory Towers to Thomas the Tank Engine: train trips inspired by children's stories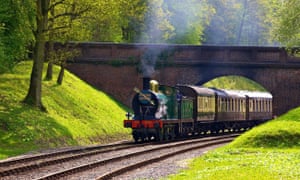 Thomas the Tank Engine by Rev W Awdry
While it's not possible to visit the Reverend Awdry's fictitious Isle of Sodor, you can get pretty close to it with a ride on the Bluebell Railway through an idyllic 11-mile stretch of the Sussex countryside.
Take Southern Railway to East Grinstead – around 55 minutes from London Victoria – then walk a few minutes to turn back the clock more than a hundred years, to the age of steam. The Bluebell Railway heritage steam line, which runs to Sheffield Park and Garden, is also home to Stepney, a steam locomotive that featured in Awdry's original series. You can even dine in the cafe where Awdry met BBC producer Britt Allcroft in 1979, and was persuaded to have Thomas and co turned into a television series.
Make the most of your day here with an All Day Rover ticket to hop on and off the trains at will, explore the stations, go for walks and find perfect picnic spots. Each station has been painstakingly restored to reflect a different period, which makes it super-easy for train-mad kids to believe that they really are chuffing their way through Awdry's bygone world.
Harry Potter and the Chamber of Secrets by J K Rowling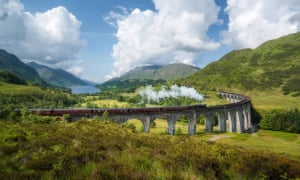 While Potter fans can find infamous platform 9 ¾ at London's King's Cross station (follow the tourists), you need to head to the Highlands for the true Hogwarts Express experience.
Described as the greatest railway journey in the world, the Jacobite steam train (which only runs limited services between April and October) will take you on an 84-mile round trip from Fort William to Mallaig over the instantly recognisable Glenfinnan viaduct. This is the 21-arched bridge you'll remember from the Harry Potter and the Chamber of Secrets film, in which Harry has to conjure a flying Ford Anglia to catch up with the Hogwarts Express. It's also the place where Harry first encounters a Dementor, as the train screeches to an unexpected, icy halt in The Prisoner of Azkaban movie.
Kids will love playing spot-the-scene from their window seat – look out for Loch Shiel, the stand-in for Hogwarts Lake, and the tall-treed island on Loch Eilt, where Dumbledore's grave lies.
First Term at Malory Towers by Enid Blyton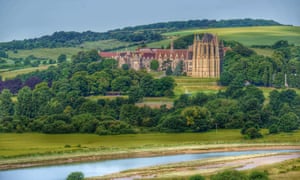 You don't need to be wearing a "brown coat, brown hat, orange ribbon and brown tunic" to get a taste of how Darrell Rivers felt as she set off on the train for her first term at Enid Blyton's wondrous boarding school, Malory Towers. Although Blyton's fictitious school was set in Cornwall, Lancing college on the South Downs inspires a similar sense of awe. It's reached with Southern via Lancing station from London Victoria, a journey that takes 79 minutes.
Visitors are welcome to look around its neo-gothic chapel – the largest school chapel in the world – and while it doesn't boast Malory Towers' seawater swimming pool cut into the rocks, Lancing Beach is just a short bus ride away. There you'll find a stretch of quiet pebbles, a skatepark, outdoor gym and, on windy days, dozens of kite surfers.
If you continue on by train to Brighton (23 mins), and take the 29 bus to Isfield, you can pick up the Lavender Line – an old heritage steam route that will keep the nostalgia flowing. Perfect for smaller kids, the route offers a two-mile round trip through gorgeous countryside – and don't miss out on the pie of the day in Cinders, the buffet restaurant.
Carrie's War by Nina Bawden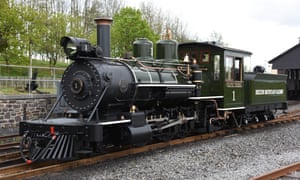 This compelling wartime story begins with grownup Carrie revisiting the Welsh mining valley she was sent to as an 11-year-old girl to escape the Blitz.
As she explores the now-abandoned railway track with her own children, Carrie begins to remember the adventures she had in and around Druid's Bottom.
Recreate a similar journey by taking the train from London Paddington to Cardiff (a touch over two hours), then it's just over an hour on to Merthyr Tydfil. Perched on the edge of the Brecon Beacons, this ex-mining town is a great base from which to explore some of Bawden's landscape.
First, head to the Brecon Mountain Railway, where a steam train runs from Pant to Torpantau, taking in lakes, forests and a steep climb above the stunning Pentwyn Reservoir. Parc Taf Bargoed is a spectacular wild park that sits on the site of three former coalmines and, farther west, the village of Pontneddfechan (25 mins by bus from Merthyr) offers a gateway to so-called Waterfall Country, where you'll discover breathtaking cascades and crystal-clear pools.
The Railway Children by E Nesbit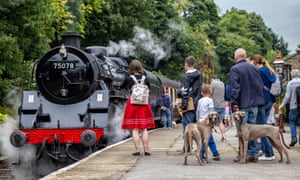 When Bobbie, Peter and Phyllis are uprooted from London and sent to live in Yorkshire with their mother, the daily chug-past of a steam train becomes the thread that connects them with their old life and absent father. Step back into the intriguing world of the Waterbury children at the Keighley and Worth Valley Railway in West Yorkshire, a heritage steam line that packs six stations into just five miles of track.
Starting in the town of Keighley, you'll wend your way through spectacular moorland, ending up in the picturesque village of Oxenhope. The first stop on the route, Ingrow, is home to the Museum of Rail Travel, which houses five of the carriages used in the 1970 film. Kids can sit in the old class compartments while grownups pore over memorabilia and photos that show TV and film stars at work in various productions.
Haworth, an old mill town with cobbled streets, is the perfect leaping off point for a circular walk the kids can manage. Find the spot where the children waved their red petticoats to divert the train from disaster, then strike out with a picnic into Bronte country for a wilder walk – about an hour on foot – that ends at the Bronte Waterfall.
Paddington Bear and the Marmalade Maze by Michael Bond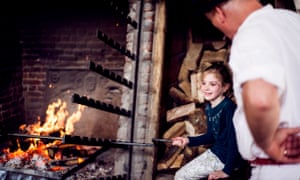 A Paddington-inspired day out must begin, of course, in London's Paddington Station where kids can search for the statue that immortalises the very spot where the Brown family first met the Peruvian bear on platform one. Fans of Paddington can follow in his welliesteps all over London – from Mr Gruber's antiques shop on Portobello Road through to Buckingham Palace – but kids will particularly enjoy replicating the adventures chronicled in Paddington and the Marmalade Maze.
For this you'll need to hop over to London Waterloo and take the train out to Hampton Court (36 mins). This magnificent palace was home to Henry VIII and five of his six wives; it boasts stunning grounds, a great hall that will take your breath away, vast medieval kitchens and a magic garden steeped in myths and legends. After you've paused for a few marmalade sandwiches (what else?) we suggest heading into the maze. However, you might want to plump for a different ending – one that doesn't involve inviting the hordes of tourists home for tea.
Five Children and It by E Nesbit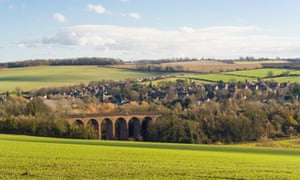 If you're craving an escape from the city, take your cue from Edith Nesbit's Five Children and It, in which a family of city kids encounter a wish-granting Psammead creature deep in the heart of the Kent countryside.
The children set off by train to stay in the White House, which Nesbit describes as "a sort of fairy palace set down in an earthly paradise". To reach a similarly bucolic setting, take the scenic route with Thameslink to Eynsford or Shoreham in Kent. In the summer months, you'll find Eynsford's riverside village green alive with children, hopping in and out of the stream with buckets and fishing nets. The occasional SUV roaring through the ford only adds to the excitement.
From there, you can walk three miles through Lullingstone Country Park and beside the River Darent to Shoreham, taking in fields of lavender and a stop at The Hop Shop. Invite the kids to keep their eyes peeled for sandy, gravel pits – just the type of place a Psammead might be lurking. Lullingstone Roman Villa, with its preserved mosaics and wall paintings, is well worth a stop, with Roman dress-up and human skeletons on offer.
Want to embark on more epic child-friendly adventures? Book your Off-Peak or Super Off-Peak ticket online and up to four children per adult can travel for just £2 each on most journeys across our network. T&Cs apply. Find out more and book at thameslinkrailway.com