SpaceX Crew Dragon Capsule Suffers Anomaly During Engine Test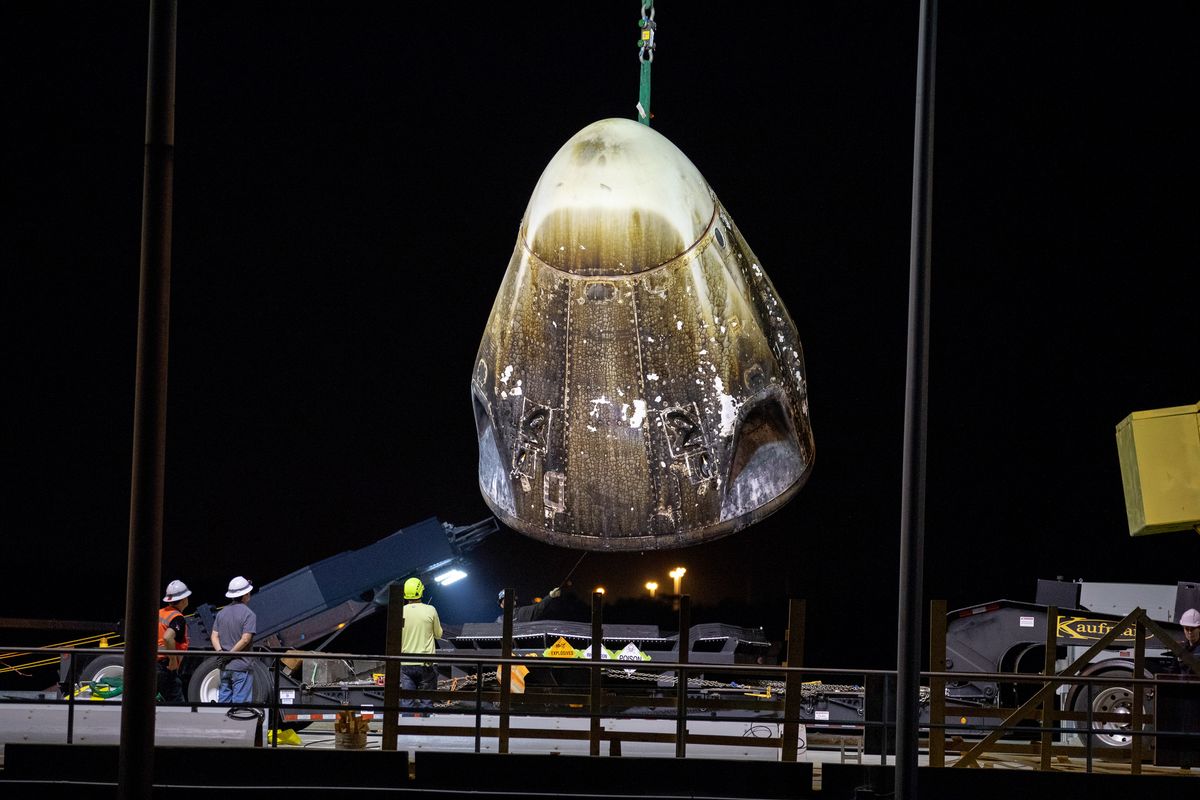 BREAKING: #SpaceX Crew Dragon suffered an anomaly during test fire today, according to 45th Space Wing. Smoke could be seen on the beaches."On April 20, an anomaly occurred at Cape Canaveral AFS during Dragon 2 static test fire. Anomaly was contained and no injuries." pic.twitter.com/If5rdeGRXOApril 20, 2019
A SpaceX Crew Dragon spacecraft suffered an anomaly during an engine test in Florida Saturday (April 20), company officials said.
The anomaly occurred while SpaceX was test-firing a Crew Dragon's engines on one of the company's landing pads at Cape Canaveral Air Force Station. NASA has picked SpaceX's Crew Dragon to fly astronauts to and from the International Space Station, with the first crewed flight expected later this year.
"Earlier today, SpaceX conducted a series of engine tests on a Crew Dragon test vehicle on our test stand at Landing Zone 1 in Cape Canaveral, Florida," a SpaceX spokesperson told Space.com in a statement. "The initial tests completed successfully but the final test resulted in an anomaly on the test stand."
"The anomaly was contained and there were no injuries," Jim Williams, spokesperson for the 45th Space Wing based at Cape Canaveral Air Force Station, told Florida Today. Witnesses reported seeing smoke billowing from the test area, according to Florida Today.
RELATED: SpaceX's Crew Dragon Demo-1 Test Flight in Pictures
SpaceX did not specify which Crew Dragon was on the test stand during the engine test, or if it survived the anomaly at Landing Zone 1. The company launched its first Crew Dragon test flight for NASA last month, and was expected to fly that same vehicle during an upcoming in-flight abort test.
That abort test will require a Crew Dragon to fire its SuperDraco engines to separate from a Falcon 9 rocket in mid-flight and then parachute back to Earth. The system is a safety feature to protect astronauts during a launch emergency.
"Ensuring that our systems meet rigorous safety standards and detecting anomalies like this prior to flight are the main reasons why we test," the SpaceX spokesperson said. "Our teams are investigating and working closely with our NASA partners."
SpaceX's first Crew Dragon test flight was an uncrewed demonstration flight that launched to the International Space Station March 2. The six-day mission ended with a successful splashdown of Crew Dragon in the Atlantic Ocean and its retrieval by a SpaceX recovery ship.
NASA officials have said SpaceX must successfully complete the in-flight abort test before moving on the first crewed flight of a Crew Dragon. That crewed flight is targeted for sometime this summer, pending a successful in-flight abort.
The anomaly today may require SpaceX to adjust its test flight schedule for Crew Dragon.
This story will be updated with new details as warranted.
Email Tariq Malik at tmalik@space.com or follow him @tariqjmalik. Follow us @Spacedotcom and Facebook.